Gallery
Hungry? Don't Wait, Order Online Now!
Takeaway Available

Corporate Lunch Available

Online Delivery

Group Booking

Traditional Ambiance

Senior Citizen Friendly
Aagrah: Your Gateway to Authentic Gujarati Thali in Ahmedabad
If you're searching for the best and most authentic Gujarati Thali experience in Ahmedabad, look no further than Aagrah. 
 
We invite you to immerse yourself in the rich tapestry of Gujarati culture, flavours, and traditions through our delectable cuisine.

A Culinary Journey into Gujarat
 
At Aagrah, we don't just serve food; we serve an experience that celebrates the diversity and richness of Gujarati cuisine. Whether a localite or a traveller, our restaurant promises to take you on a culinary journey.
 
Explore the flavours of Gujarat, from the tangy dhokla to the sumptuous undhiyu, and savour the sweetness of our hospitality. Aagrah is more than just a dining destination; it celebrates Gujarati heritage and tradition.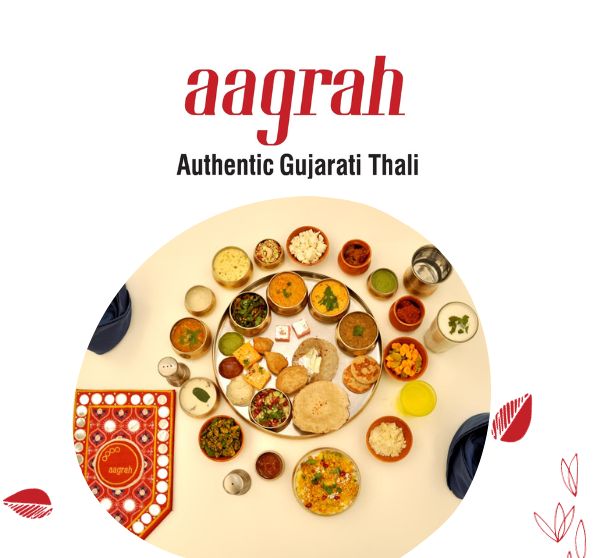 Join Us at Aagrah Today
Discover the best and most authentic Gujarati Thali in Ahmedabad at Aagrah . Come hungry, and leave with a heart full of flavour and culture. We look forward to welcoming you to our restaurant and sharing the magic of Gujarat through our food.
 
Experience the essence of Gujarat, one bite at a time, at Aagrah.
FAQs
Aagrah offers the most authentic Gujarati Thali experience in Ahmedabad with meticulously prepared traditional dishes that truly capture the flavours of Gujarat.
Aagrah provides an opportunity to immerse in Gujarati culture through its ambience and decor, reflecting the essence of the state and making it more than just a place to eat.
Aagrah prides itself on providing warm and friendly hospitality, ensuring an exceptional dining experience with attentive staff dedicated to serving guests.
Aagrah's chefs are experts in crafting the perfect Gujarati Thali, using the finest ingredients and time-honoured recipes, ensuring an unparalleled culinary experience.
Aagrah goes beyond being a dining destination by celebrating Gujarati heritage and tradition through its diverse menu, offering a journey through the flavours and culture of Gujarat.