Gallery
Hungry? Don't Wait, Order Online Now!
Separate Breakfast Menu

Live Sports Streaming

Work Friendly

Free Wifi

Open 24*7

Take Away Available

Intimate Celebration Area

Weekly Events
Discover Kaffee Mast Hai: Premier & Best Cafe in Ahmedabad For Excellence in Dining and Entertainment
Welcome to Kaffee Mast Hai, the quintessential destination for those seeking unparalleled indulgence and entertainment in Ahmedabad.

With an array of offerings, including live streaming of sports matches, refreshing mocktails, and delectable options ranging from Italian and Mexican to Indian cuisines accompanied by live music performances every weekend, Kaffee Mast Hai sets the standard for an extraordinary dining experience.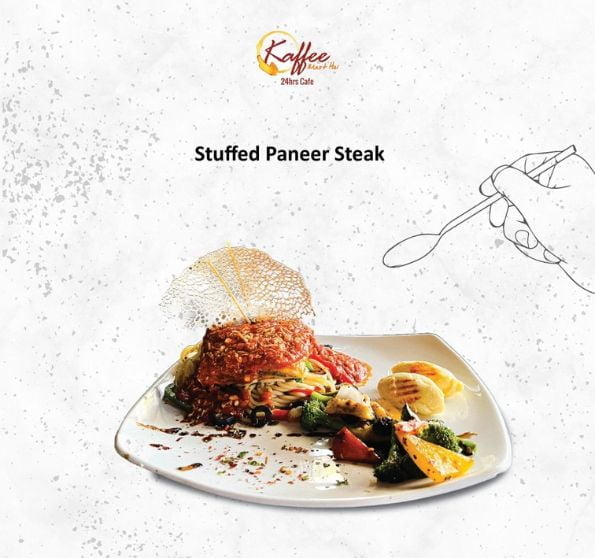 Visit Kaffee Mast Hai Today
Looking for a weekend venue to chill? KMH will get the music with a live singer and delicious food as an add on to make your weekend perfect, Kaffee Mast Hai welcomes you with open arms.

Step into the world of Kaffee Mast Hai and discover the unparalleled convenience of a 24-hour cafe, the enchantment of live music, and the indulgence of our mocktails, pizzas, and pasta.
 
Whether you crave a quick bite or wish to savour a leisurely meal, Kaffee Mast Hai invites you to join us and experience why we have been honoured as the "Best 24/7 Cafe in Ahmedabad" by Times Food in 2019.
 
We eagerly await your presence as we continue to be your preferred destination for exceptional dining, enjoyment, and lasting memories. Come and be a part of the Kaffee Mast Hai experience today!
FAQs
Absolutely! "Kaffee Mast Hai" is a fantastic birthday celebration cafe in Ahmedabad, known for its unique ambience and special arrangements to make your birthday memorable.
"Kaffee Mast Hai" has earned its reputation as the best cafe in Ahmedabad due to its exceptional coffee, diverse menu, and cosy atmosphere, which makes it a top choice for coffee lovers and food enthusiasts alike.
Yes, We regularly host live music events featuring talented local musicians, creating a captivating dining experience.
Yes, "Kaffee Mast Hai" has become one of the famous cafes in Ahmedabad, recognized for its unique ambience, delicious offerings, and engaging live music performances.
When you visit "Kaffee Mast Hai," you can expect an enchanting live music cafe experience in Ahmedabad, with talented artists performing a variety of genres, creating an unforgettable atmosphere.
Yes, "Kaffee Mast Hai" frequently hosts special events, themed nights, and open mic sessions. Be sure to check our event calendar to stay updated on upcoming activities and performances.